In order to access your course, you have to go to our webpage https://evolucion.conmebol.com/en
Once you are there, you have to go to LOG IN. In the pop-up window, you have to LOG IN with the same information you used to purchase, using a username (registered e-mail) and password.

Once you are logged in, you have to click on YOUR NAME in order to drop down the next menu on the upper right corner of the page:

By clicking on "MY COURSES", you will be able to see all the programs you acquired, with the corresponding starting dates and two options. You have to click on "SHOW CONTENT" and you will see the list of the courses of your program with their opening and finish date"

When clicking on "GO TO CLASS" in the current course, you will have to check and complete the "OATH OF HONOR" with your information: first name, last name and ID number (DNI, passport, ID); click on "I accept and understand the Honor Oath". Once completed, click on Accept.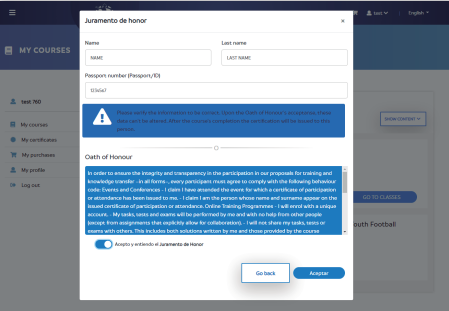 Consider that:
a)  If you try to enter before the start date of any course, a message will drop down on your screen showing the right date the course starts.
b)  If you try to enter on the start date, or some days after that, you will go directly to the course platform, leader of online learning.
You should not access the Certificate of Completion until the end of your academic journey, i.e. until you have completed and passed all the courses of your program.
When accessing the current course, you will find an introductory video about the topic that will be developed throughout the course. Then, press Start.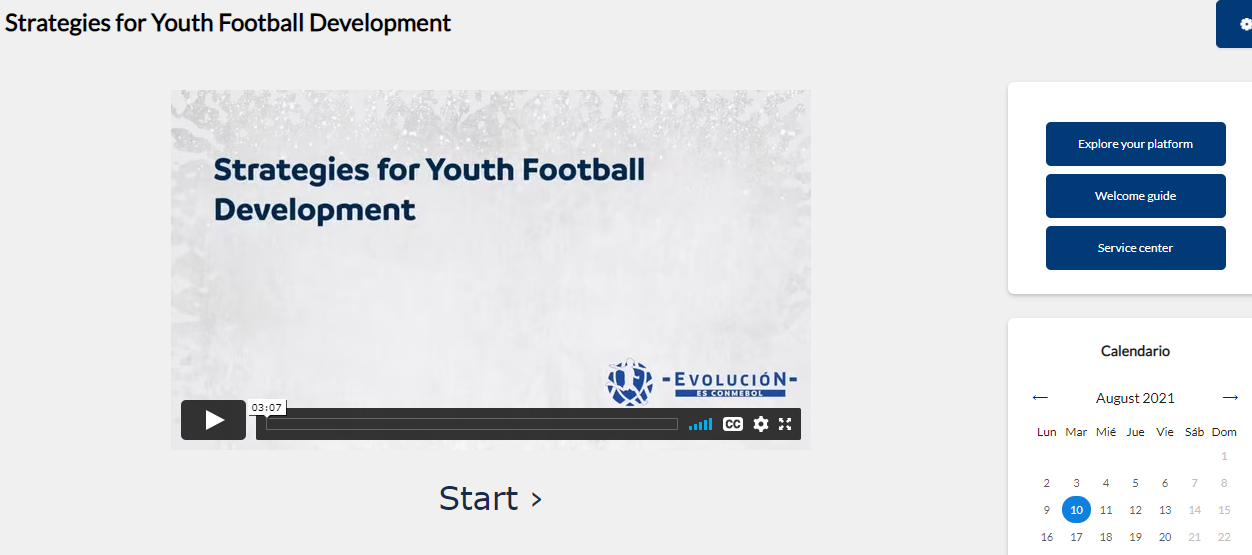 We have designed your experience so that you go through it in an orderly manner, starting with the DIAGNOSTIC (Diagnostic Self-assessment) as a compulsory pre-requirement to access the next modules containing the readings and activities.